Choir turns problem into triumph
Eastbourne is a town where lovers of choral singing can enjoy performances by an abundance of good choirs. A "Concert for the Eve of Remembrance Sunday" at All Saints Church showed the talented Hailsham Choral Society in fine form. Yet conductor Jozik Kotz had been obliged to concoct an entirely new programme with only a few weeks' notice when circumstances forced the abandonment of the work already in preparation.
In the event, those who braved a stormy night were rewarded with some fine singing and playing. And what a range of music we heard: Haydn, Mozart, Bruckner, Parry, Handel, Bernstein, Guest and Neal. Furthermore, a remarkable line-up of soloists was added to the unfailing beauty of tone which Jozik drew from his choir. Twenty-three year old soprano Nia Coleman filled the church with golden sound in Mozart's Laudate Dominum and Dona nobis pacem, and in Handel's How beautiful are the feet and Let the bright seraphim. Hers is a lyric voice already under complete control: she will go far.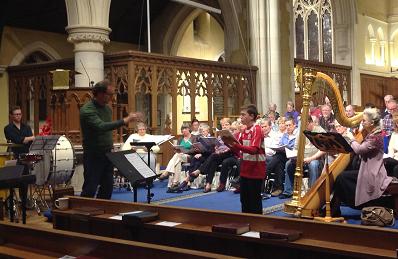 Ben Hancox-Lachman joined Nia as soloist in Bernstein's Chichester Psalms. He is just thirteen, the son of pianist William Hancox and soprano Noa Lachman. Soon he will face the moment when his present liquid treble will "break", but his musically-gifted parents will give him sound advice. In the unlikely event of his singing voice "vanishing" he is already no mean cellist!
The solo harp in the Psalms was none other than Jane Lister, who had recorded the part with the composer conducting. Fabian Edwards was percussionist par excellence in this noble work: no surprise, as he had earlier in the programme played Gorymdaith (Procession), a five-minute display of varied (sometimes remorseless) percussionism by Alex Neal (born in Colchester, 1971).
Other items included Motets by Bruckner, Blest Pair of Sirens and Songs of Farewell by Parry, and For the Fallen by Douglas Guest. Throughout, the organ or keyboard was played to perfection by Colin Hughes. Jozik proved once again that he is an all-round musician (his baritone singing and his conducting skills are well known) by playing the oboe in Let the Bright Seraphim. From within the choir Pam Russell, Marcus Haddow and GrahamKeeley sang their solo passages with assurance.
This is a choir with depth. Bass Ian Fry, I learn, compiled the thorough, informative and readable printed programme. Their carol concert is on Dec 18th in Hailsham, and then on March 21st they are back at All Saints with Haydn's Nelson Mass.
Hailsham Twinning Visit - September 2014
It's a long time since any news has appeared on the 'News' page of our website, but don't think we have been idling our time away or have disappeared from the face of the earth. None of us is very sure where the first eight months of 2014 have gone, we have rehearsed each week, sung two of our four annual concerts, and are amazed to find ourselves rehearsing for the third, taking place on November 8, a wonderful collection of mostly sacred music from (among others) Bernstein, Bruckner and Parry.
But most fresh in our minds is the wonderful weekend we have just spent in Hailsham's twin-town, Gournay-en-Bray in Normandy. The Hailsham & District Twinning Association (http://www.hailsham-tc.gov.uk/twinning.html) invited us to participate, and twenty-two of our choir members joined Hailsham residents on the trip. We were to sing in a joint concert with the choir of the host town, and a comfortably un-full coach left Eastbourne with the first pick-up at 6 a.m. on Friday 21st September. The route was then Hailsham – Dover for the ferry – Rouen, where we met some of the Gournay twinning committee. We had a couple of hours there, with an optional guided tour to some of the highlights of the city, and time for thirst-quenching drink at a café near the Cathedral precinct. (This could be considered to have been a major influence in our decision to go on the visit!) The coach then continued to Gournay where we met the generous people who were hosting the visitors.
What a melée, but thanks to the efficiency of Wai Lin, the Gournay Twinning organiser, our own choir secretary Jan, and Pauline, Secretary of Hailsham Twinning, we all knew who we were looking for. So with each half looking for the other half, it got sorted pretty quickly. And what lovely people they were. Not all of them spoke any English, and not all of us spoke any French, but it's amazing what you can do with goodwill, a determination to be understood, and dictionary. We were taken off to our respective homes for the next two nights and fed royally there.
Gournay had pulled out all the stops (please note the musical allusion) to entertain us. Saturday morning was a visit to a local historic village, Gerberoy, classed among the most beautiful villages in France. It has abundant early 17th century properties, and a particulary beautiful garden created by an artist associated with the Impressionists, Henri le Sidaner. We spent an hour there, wandering about the different 'coloured' gardens, the sun shone and we took loads of photographs, many of which you can see on our 'Gallery' page. It still attracts artists today, and there are exhibitions of their work both in their workshops and in the Tourist Office. After returning to Gournay we were treated to a sumptuous lunch provided by members of the local twinning association and the Gournay choir. Both choir presidents spoke a few words in the other's language, with our Pam doing brilliantly in spite of nerves!
After lunch another trip, this time to a Chateau Fort, the site of what we call a 'Motte and Bailey', or a high mound where a wooden fort once stood, which played an important part in the war against England when Jeanne d'Arc entered the history books. Back home with stormclouds overhead to a rehearsal in the church, more food (mostly left after the generous lunch!) and changing into our choir uniforms for the concert.
No concert anywhere in France ever seems to start at the stated time (8 o'clock in this case), but people were arriving by 7.15 – they had over an hour to wait, but I can assure you it was worth it! The Gournay choir sang pieces by Palestrina, Vivaldi, Saint-Sa"ns and Fauré, (among other things his Cantique de Jean Racine,which we were invited unexpectedly to sing with them, which we did entirely without copies). After a Bach entr'acte played by one of the hosts, Anne-Claire Huet, on the magnificent 18th century organ, we took over with a programme which illustrated the range of the music we sing. 'Domini Fili' from Vivaldi's 'Gloria' a Bruckner gradual, two King's Singers numbers, Parry, and Gibbs' 'The Soldier', finishing with the 1st World War medley from our summer concert. Perhaps the proudest moment ot our lives – a standing ovation and a call for an encore! 'Mairi's Wedding' had been a huge hit, so we sang it again. Finally the Gournay choir joined us on the platform for Mozart's 'Ave Verum', the Cantique, and Verdi's Hebrew Slaves' chorus from Nabucco. These also were greeted with great enthusiasm, leading to another encore with the Verdi.
A return to the Parish hall for pancakes and drinks wound up a hugely successful day. We were leaving at 11 o'clock the next morning, so spent the last night with our hosts and left in the morning for what turned out to be a long day with some delays along the way, but nothing could really spoil what had been a fantastic weekend, and one which we hope can be repeated in the future.
Many thanks to everyone in the Twinning Associations in Gournay and Hailsham, especially to Wai Lin in Gournay and Pauline in Hailsham, who invited us, organised us, and made us feel so welcome.
Local school shines at choral concert - All Saints, April 5th
Fauré was a nineteen year old student when he wrote the prize-winning "Cantique de Jean Racine". In it is the unmistakeable sound that will make him one of France's favourite composers, and within its five minute span one can judge the quality of any choir which sings it. Conductor Jozik Kotz drew a magically spiritual sound from the Hailsham Choral Society, admirably accompanied on All Saints Church's fine organ by Colin Hughes, who is now well-established as Director of Music at Bede's School.
Duruflé's Requiem was composed between 1941 and 47, but there is nothing "modern" about it. It looks back to Fauré's Requiem. Indeed, much of its inspiration derives from far-earlier Plainsong. It is establishing itself as a popular choice by choirs who can enter its other-worldliness without losing the musical impetus. Jozik is himself a fine singer with an established career, and I suspect he spent a lot of time at rehearsal drawing the necessary subtlety from his performers. The result was a rendering that seemed to integrate every thread into a magic calm. Colin Hughes (organ) and soloists Nia Coleman and James Proctor were part of this magic.
There's nothing "modern" about John Rutter's "Mass of the Children" either, even though its first performance was in New York a mere eleven years ago, conducted by the composer. It's a big challenge, with children performing alongside an adult choir. The score is unfailingly tuneful, but it bristles with moments when musical discipline can fail, and not all conductors can integrate their resources for this forty-minute show-piece. On this occasion we were treated to a marvellous example of how it should be done. The Bede's Choir had clearly been taught to sing properly by Colin Hughes. The same soloists (Nia and James) were an integral part of the whole rather than being spot-lit celebrities. The Hailsham Choral Society was on fine form. No wonder the former Head of Bede's (bravely nursing a serious ski injury) had a smile on his face. There was one on mine too.