Concert Review : "Ambition pays off for All Saints Choral Concert"
Review by ROBIN GREGORY
On November 12th 2016, Hailsham Choral Society presented, at All Saints Church, arguably the most ambitious concert in Eastbourne for many years. Under the title "Glories of European Church Music" we had items from the sixteenth to the twentieth centuries. Bach, Handel, Mozart, Tchaikovsky, Rachmaninoff, Stravinsky and Vaughan Williams are household names; but in addition we heard Gabrieli, Lotti, Monteverdi, Handl (also known as Gallus), Lassus, Buxtehude and Bruckner. Mercifully the superb 16-page printed programme was a mine of well-written information, compiled by choir-member Ian Fry.
The concert was dedicated to Caroline Hunt, who died in June. She sang with the Society almost literally to her dying day. And there could have been no greater tribute to her than the evening's magical performance.
Conductor Jozik Kotz, and organist Colin Hughes, drew magnificent singing from every part of the choir. Whether the demand was for a whispered pianissimo or a blazing forte, it was forthcoming. Whether the text was in German, Russian or English, everything was clear, audible and balanced.
The baritone soloist in Vaughan Williams's Five Mystical Songs, Bach's Quia Fecit and Buxtehude's Magnificat was Daniel Jordan, Director of Music at Eastbourne College. He impressed with his evenness over the entire baritone range, and his immersion in the music. He will be a fine addition to the soloists available in the Eastbourne area. Equally impressive was the fact that several solo parts were taken most ably by members of the choir.
During the interval I ran into Colin Tarn, a former conductor of the same Choral Society. Colin's musical background was vast, ranging from musical direction of several London shows, to sparkling jazz pianism, and a sense of musical humour that was even more persuasive than Victor Borge. His generous comment on the evening of music-making we were enjoying was, "If I could have got even a tenth of that quality when I was conducting the Society I'd have been well-satisfied". So don't take my personal glowing report as "gospel". A real expert was even more admiring.
Free singing workshop a big success
Hailsham Festival has always been a bit of a problem for us because of the timing. It's something that we're very keen to support, but it comes just after the long summer holiday when the choir doesn't rehearse so it is hard for us to put on a concert during the Festival.
This year we decided to try something new, a free singing workshop open to everyone, no previous experience or ability to read music necessary!
We were very pleased with just how well it went, with over fifty people coming together for a morning of singing, including a lot of new faces. Many thanks to our musical director, Jozik Kotz, for leading us in a day of laughter and music making.
If you would like to be put on our mailing list for future events please sign up on our Friends page.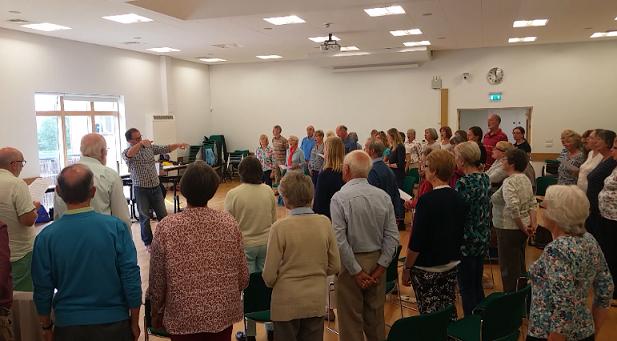 Not Singing in the Rain!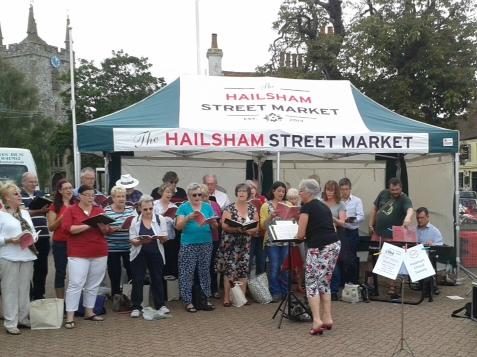 On Saturday 10th September a small group from Hailsham Choral entertained shoppers at the Hailsham Street Market, led by our assistant MD Barbara Edwards, in an event to publicise our singing workshop.
We were really lucky with the weather as the rain held off just long enough for us to finish performing and get the electric piano safely packed away!
Thank you to Barbara and everyone who took part.
Hailsham Choral take part in world premiere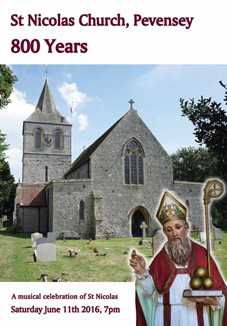 Recently Hailsham Choral were delighted to take part in a fund raising concert for St Nicolas Church, Pevensey, which celebrates its 800th anniversary this year.
The main event of the evening was the first performance of a brand new composition The True St Nicolas written by local composers Ruth Kenward and Martin Neill and also featuring a choir of children from Pevensey and Westham Primary School. The children's choir was formed specially for the occasion and sang superbly.
For a review of the concert see here.