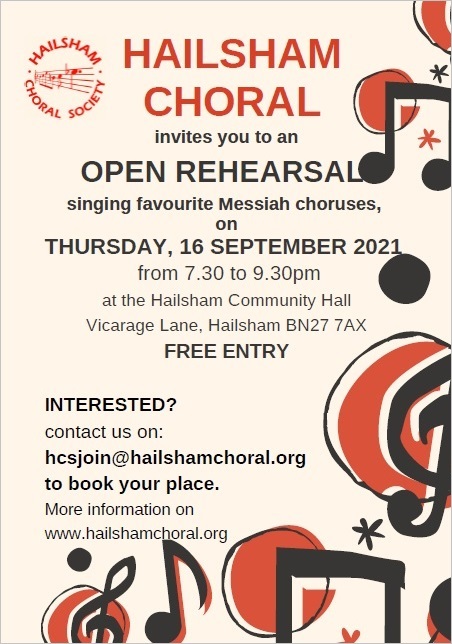 Free Open Rehearsal event: Thursday 16th September 2021 at 7.30pm
On Thursday September 16th we are holding an Open Rehearsal for anyone who is interested in singing with Hailsham Choral. It should be a great opportunity to come and try us out. We won't be doing a major concert this autumn because of the difficulty in planning anything at the moment, so this is an ideal time to join the choir.
Come and join the choir for a fun evening singing favourite choruses from Handel's Messiah led by Rosie Howarth, our talented and experienced choral conductor.
Some people in the choir are good sight readers, but not all of us. It's only necessary to have some ability to read music. Part of the rehearsal will be spent learning the notes, but we will also spend time working on quality and interpretation.
Covid
Because of Covid we are trying to follow a few guidelines to make rehearsals safer. Please see here for some simple rules to follow on the night.
Music
We will be rehearsing some well-known choruses from Messiah which we plan to perform in Spring 2022 to celebrate the choir's 60th anniversary. Please bring your own copy of the vocal score if you have one, but don't worry if you don't - copies will be provided for the evening.
For the concert in 2022 we will be using the Novello edition edited by Watkins Shaw but any Messiah vocal score should be OK for the open rehearsal.
Some of the choruses we plan to sing at the open rehearsal if time allows include:
And the glory of the Lord
For unto us a Child is Born
Glory to God
Behold the Lamb of God
He trusted in God
Hallelujah
When
Thursday 16th September 2021, 7.30pm - 9.30pm
Please arrive early so that we can sort out details like music and where you are sitting.
Where
Civic Community Hall,
Vicarage Lane
Hailsham
BN27 2AX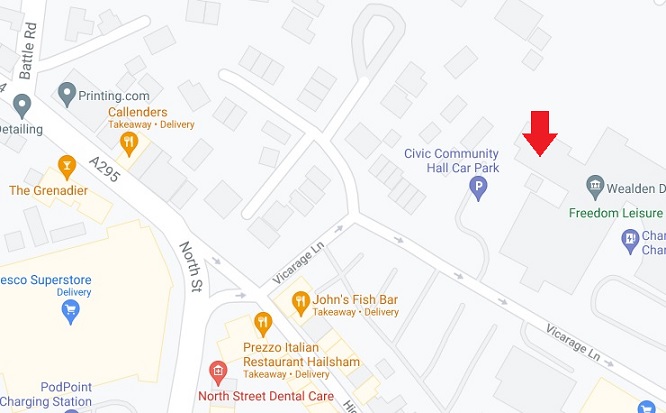 Parking is available at the venue or in the large public car park directly opposite.
Help us plan
You are welcome to drop in on the day of the open rehearsal but it would help us to plan if we know you're coming. Please send us an email with your name and the number of singers coming. Thanks.
Help us spread the word
Please tell anyone who you think might be interested about our Open Rehearsal. A copy of the poster for the event is available here.