Next Concert - Choral Masterpieces. Saturday 10th November 2018
We are excited to bring you our next concert, which is already proving very popular with the choir in rehearsals.
The main event of the evening will be a performance of C.H.H Parry's Songs of Farewell, a profound and deeply felt work with which we are marking the centenary of the composer's death.
Also on the programme is the first complete performance of The Whispering Mass written by choir member and local composer Marcus Haddow. You can read more about his new piece here.
The concert will also include masterpieces of European sacred music by Palestrina, Victoria, Haydn, Fauré and more. Not to be missed!
See here to download a superb set of full programme notes (16 pages) written by a choir member.
Conductor
Jozik Kotz
Accompanist
Colin Hughes
Saturday 10th November 2018
7.30pm
All Saints Church
Grange Road
Eastbourne
Adults £15.00
Under-18s £7.50
Tickets
Eastbourne Tourist Office
Camera Centre, Hailsham
and on the door
Robin Gregory reviews our Spring concert
"[The Bach St John Passion] all came together most excitingly in this Hailsham/Eastbourne presentation. Jozik Kotz opted for the original German, and provided a printed English translation in addition to a fine 'normal' programme giving historical background, details of the soloists, and so on. The relatively small baroque orchestra, though un-named, proved to be superb, under their Leader Julia Bishop. The flutes, for example, when accompanying soprano Bethany Partridge in the aria 'Ich folge' ('I follow you with joyful steps'), provided a perfect rippling cushion for this young soloist's exquisite performance.."
About us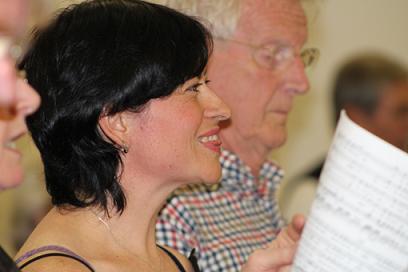 We are a choir of about 65 singers based in Hailsham, East Sussex.
We perform at least four main concerts during the year, with programmes featuring anything from Bach (Christmas Oratorio, St. John Passion) to Beatles, Rossini (Petite Messe Solennelle) to Gershwin, Rutter (Requiem, Magnificat, carols) to Rogers and Hart.
We're a sociable lot too, music workshops, coffee mornings, quizzes, even the odd pint of beer or glass of wine (or two)!
If you're looking for a fast way to increase your circle of friends, as well as an opportunity to sing hugely enjoyable music go to the 'Join Us' page.
Our 58th Year !!!
You can find references to a choral group in Hailsham from the early 1930s, but it faded from view during the war - they probably had even more troubles recruiting tenors and basses then! The present Society was founded in 1961, so we are now in our 58th year and still going from strength to strength.
Thank You
We would like to acknowledge the generous support of Hailsham Town Council who have assisted us with a Grant.



This website is maintained by Simon Marsden. Please get in touch if you have any problems with the site.