Robin Gregory reviews our Spring concert
"Jozik Kotz ... has been Musical Director of Hailsham Choral Society for more than a decade. His choir is, by now, undoubtedly one of the finest in this area; and a double-dose of Handel at All Saints Church on March 25th certainly bore out this judgment."
Next Concert - Rutter Magnificat. Saturday 1st July 2017
Our next concert will include a performance of John Rutter's lovely Magnificat and a new work by Marcus Haddow (see below).
The words of the Magnificat are spoken by Mary in St Luke's Gospel when she learns that she is to be the Mother of God: 'My soul doth magnify the Lord : and my spirit hath rejoiced in God my Saviour'. In John Rutter's version they are set in Latin alongside a very beautiful, anonymous 15th century English poem which compares Mary to a rose:
Of a Rose, a lovely Rose, Of a Rose is all my song:
Hearken to me, both old and young,
How this Rose began to spring;
A fairer rose to mine liking
In all this world ne know I none."
Rutter's Magnificat displays his usual gift for melody and is deservedly one of his most popular pieces.
Conductor
Jozik Kotz
Accompanist
Colin Hughes
Soloist
TBA
Saturday 1st July 2017
7.30pm
Civic Community Hall
Vicarage Road
Hailsham
Adults £10.00
Under-16s £5.00
Tickets
Camera Centre, Hailsham
wegottickets.com
and on the door
We are also excited to bring you the world premiere of part of a new work The Whispering Mass by one of our choir members, Marcus Haddow. Marcus writes about its composition:
"The Whispering Mass started to write itself while driving one day...The music just cut through the babble of the BBC2 breakfast show with such ferocity that I had to scribble down the ideas in my diary at the next available carpark".
About us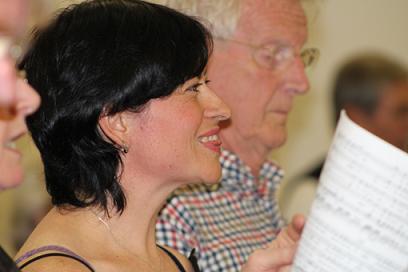 We are a choir of about 65 singers based in Hailsham, East Sussex.
We perform at least four main concerts during the year, with programmes featuring anything from Bach (Christmas Oratorio, St. John Passion) to Beatles, Rossini (Petite Messe Solennelle) to Gershwin, Rutter (Requiem, Magnificat, carols) to Rogers and Hart.
We're a sociable lot too, music workshops, coffee mornings, quizzes, even the odd pint of beer or glass of wine (or two)!
If you're looking for a fast way to increase your circle of friends, as well as an opportunity to sing hugely enjoyable music go to the 'Join Us' page.
Our 56th Year !!!
You can find references to a choral group in Hailsham from the early 1930s, but it faded from view during the war - they probably had even more troubles recruiting tenors and basses then! The present Society was founded in 1961, so we are now in our 56th year and still going from strength to strength.
Thank You
This website is maintained by Simon Marsden; please get in touch if you have a comment or an issue to report.