Christmas Concert: Thursday 16th December 2021
Join us on Thursday 16th December for our ever-popular Christmas concert, a perfect way to get in the Christmas spirit. Sit back and be entertained by the choir, or join in the audience carols if you are feeling festive.
As usual we have selected a good cause to support with a retiring collection, and this year we're delighted to welcome Warming Up the Homeless, a charity working locally to help homeless people with basic needs like blankets, clothing and food.
Thursday 16th December 2021
7.30pm
Hailsham Parish Church
Vicarage Road
Hailsham
BN27 1BJ
Adults £12.00
Under-18s £6.00
Tickets
Ashley Adams Jewellers, High Street, Hailsham,
from choir members
and on the door
Conductor
Barbara Edwards
Accompanist
William Hancox
New Members Wanted!
Do you enjoy singing?
Are you looking for a friendly, welcoming choir?

Look no further.

Hailsham Choral is a lively, local choir with some 50 members singing a wide repertoire from Bach to the Beatles, Rossini to Rutter, and Handel to Holst
We rehearse on Thursdays, at 7.30pm at the Hailsham Community Hall, Vicarage Lane, Hailsham, BN27 7AX.
For more information please see the 'Join Us' page.
Robin Gregory reviews our Autumn 2019 concert
Rachel's Pie Jesu seemed to float heavenwards, and Jozik's Libera Me perfectly prepared us for the closing In Paradisum: "eternal rest" indeed, and totally matching Fauré's setting. The chorus was impeccable.
About us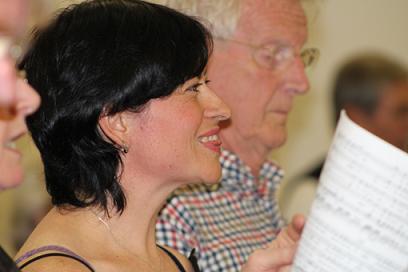 We are a choir of about 60 singers based in Hailsham, East Sussex.
You can find references to a choral group in Hailsham from the early 1930s, but it faded from view during the war - they probably had even more troubles recruiting tenors and basses then! The present Society was founded in 1961, so we are now in our 59th year and still going from strength to strength.
We perform at least four main concerts during the year, with programmes featuring anything from Bach (Christmas Oratorio, St. John Passion) to Beatles, Rossini (Petite Messe Solennelle) to Gershwin, Rutter (Requiem, Magnificat, carols) to Rogers and Hart.
We're a sociable lot too, music workshops, coffee mornings, quizzes, even the odd pint of beer or glass of wine (or two)!
If you're looking for a fast way to increase your circle of friends, as well as an opportunity to sing hugely enjoyable music go to the 'Join Us' page.
Contact us
For membership enquiries, or if you are interested in becoming a Friend, please see here.
For any other enquiries, please email our Secretary Milly Clark (Phone: 01323 737432 Mobile: 07751 935011)
If you want to read our Data Protection policy, it is available here.
Thank You
We would like to acknowledge the generous support of Hailsham Town Council who have assisted us with a Grant.



This website is maintained by Simon Marsden. Please get in touch if you have any problems with the site.