Concert Review by Robin Gregory : Check out the 'News' page
Ambition pays off for All Saints Choral Concert
"...Conductor Jozik Kotz, and organist Colin Hughes, drew magnificent singing from every part of the choir. Whether the demand was for a whispered pianissimo or a blazing forte, it was forthcoming. Whether the text was in German, Russian or English, everything was clear, audible and balanced. ...." Read more


Our next concert - Saturday 25th March 2017
Our spring concert will include a performance of Handel's Dettingen Te Deum as well as the Easter section from Messiah, with full orchestra and soloists.
George Frideric Handel
Dettingen Te Deum &
Messiah (Part II: Easter)
Conductor
Jozik Kotz
Soloists
Catrin Woodruff
Rebecca Anstey
Stephen Rooke
Daniel Jordan
Orchestra
Eastbourne Chamber Orchestra

Saturday 25th March 2017
7.30pm
All Saints Church
Grange Road
Eastbourne
Adults £12.00
Under-16s £6.00
Tickets
Eastbourne Tourist Office;
Camera Centre, Hailsham;
and on the door
The exuberant Dettingen Te Deum was written in 1743 to celebrate a victory by a British Army and its allies against the French in the War of the Austrian Succession. The event is notable as the last time that a British Monarch (George II) personally led an army into battle. One admirer of Handel's composition wrote:
It is excessively fine, I was all rapture... everybody says it is the finest of his compositions; I am not well enough acquainted with it to pronounce that of it, but it is heavenly.
Part II of Messiah is based on Biblical verses which contemplate Christ's crucifixion, resurrection and ascension, and the spreading of the Gospel. Many of the words are taken from prophetic texts in the Old Testament. It is widely recognised as one of Handel's great masterpieces.
About us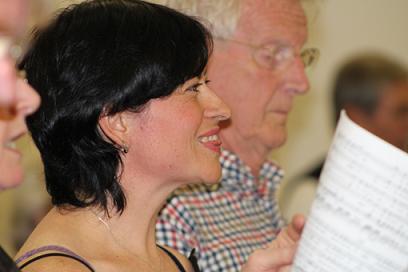 We are a choir of about 65 singers based in Hailsham, East Sussex.
We perform at least four main concerts during the year, with programmes featuring anything from Bach (Christmas Oratorio, St. John Passion) to Beatles, Rossini (Petite Messe Solennelle) to Gershwin, Rutter (Requiem, Magnificat, carols) to Rogers and Hart.
We're a sociable lot too, music workshops, coffee mornings, quizzes, even the odd pint of beer or glass of wine (or two)!
If you're looking for a fast way to increase your circle of friends, as well as an opportunity to sing hugely enjoyable music go to the 'Join Us' page.
Our 56th Year !!!
You can find references to a choral group in Hailsham from the early 1930s, but it faded from view during the war - they probably had even more troubles recruiting tenors and basses then! The present Society was founded in 1961, so we are now in our 56th year and still going from strength to strength.
Thank You
We would like to acknowledge the generous support of Hailsham Town Council who have assisted us with a Grant.



This website is maintained by Simon Marsden; please get in touch if you have a comment or an issue to report.